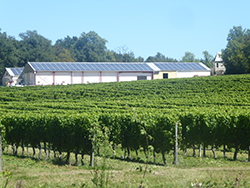 At Lisennes our vocation is to make good wine that shows where it comes from and to respect our environmental beliefs. We have introduced several methods to this end.
We have a total of 15 plots of vineyard at Lisennes and use state of the art methods of observation and recording every detail: meteorology, disease statistics, the capture and population estimates of insects, both good and harmful.



Electricity panels are installed on the cellar roof and we produce the same quantity of electricity we use.
We only use products that are healthy to plants and do not use weedkillers. We use no known cancer producing products or things that interfere with human or wildlife reproduction.


In 2017 we encouraged bats by installing 13 bat boxes. Bats feed on many harmful vineyard pests.



We have taken action to encourage general bio-diversity by creating several avenues of trees, enhancing our woodland edges, and maintaining hedgerows, of which several are ancient but others have been planted, with two lakes.